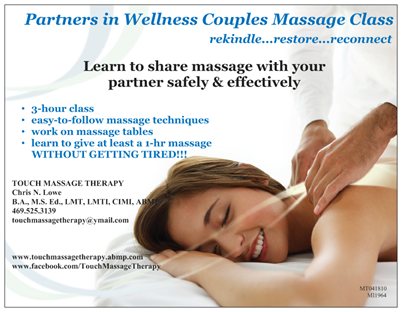 Our lives are filled with appointments, deadlines and responsibilities which can leave you feeling exhausted, irritable and disconnected--especially from the one you love the most. Couples Massage Class is a great way to escape from the daily hustle and bustle, slow down and spend quality time reconnecting with your partner and rediscovering your own place of peace and sense of wellbeing. Sharing massage allows couples to experience the nurturing, relaxing, rejuvenating benefits of massage with one another.
Many couples try to share massage, but women often complain that men are too rough or go too fast, and men say women aren't strong enough; both men and women complain that their hands get tired too quickly. In this 3-hour class, couples will learn basic, easy-to-follow massage techniques and the proper way to use pressure to avoid weariness in your hands. This class is designed for couples, but other pairs of friends are always welcome--everyone loves massage!
Consider this your personal invitation to learn to help each other, heal each other, and connect with and enjoy one another again. Become partners in wellness.
CLASS FEE: $300/couple.
ADVANCE PAYMENT & REGISTRATION REQUIRED
GIFT CERTIFICATES AND IN-HOME SESSIONS AVAILABLE
Private Massage Classes, Group Massage Classes, Massage Parties
available on-site or in your home
♦♦♦♦♦♦♦♦♦♦♦♦♦♦♦♦♦♦♦♦♦
THIS IS A PRIVATE CLASS! APPOINTMENTS FILL QUICKLY!
Please call or text 469-525-3139 or email touchmassagetherapy@ymail.com to schedule your session today
♦♦♦♦♦♦♦♦♦♦♦♦♦♦♦♦♦♦♦♦