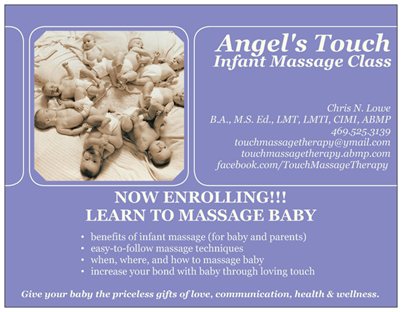 Infant Massage is a wonderful, age-old practice that encourages deeper bonding between parents and baby. This wonderful massage art enhances circulation; improves the condition of a baby's skin and muscles; helps regulate baby's sleep pattern; soothes colicky babies; improves digestion; strengthens the development of their heart and lungs; and so much more.
This 2-hour class teaches different massage strokes and techniques to use. You will gain a thorough understanding of the benefits of infant massage (for baby and for parents), as well as when, where, and how to massage baby, while increasing your bond with baby through loving touch.
Special Note to Dads: Don't let Mom have all the fun! Dads are equally essential to the growth, development and care of baby. While you may have felt left out during the pregnancy, labor/delivery, and breastfeeding, infant massage is an excellent opportunity for you to cultivate a strong, healthy bond with baby.
Give your baby (and yourselves) the priceless gifts of love, communication, health and wellness.
CLASS FEE: $100
ADVANCE PAYMENT & REGISTRATION REQUIRED
---
Please call or text 469/525-3139 or email touchmassagetherapy@ymail.com to schedule your session today
---
Private & Group classes available on-site or in your home!
GIFT CERTIFICATES AVAILABLE--A UNIQUE GIFT IDEA!
"BABY & ME" GROUP PARTIES ALSO AVAILABLE
A great opportunity for grandparents, nanny and other caregivers to learn
---
SPECIAL ANNOUNCEMENT:
"PARTNERS IN WELLNESS COUPLES MASSAGE CLASS"
INSTRUCTIONAL DVD IS NOW AVAILABLE!!!
(a unique gift idea for holidays, birthdays, anniversaries, weddings...!)
Only $49.99!!!
Learn the proper techniques, step-by-step, to give a
satisfying, relaxing massage without getting tired!
The perfect way to say "Aaaah love you!"
CALL TO ORDER YOUR DVD TODAY 469.525.3139